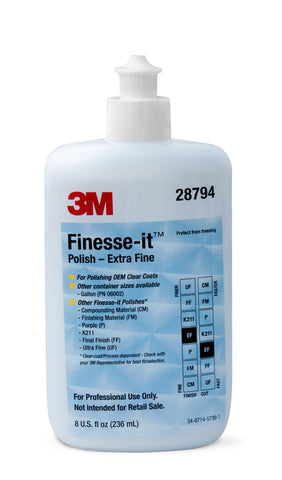 3M 8OZ FINESSE IT EXTRA FINE POLISH
Unless you're hacking every car you work on, these little 8oz bottles will last for a long time, and not take up too much space!
This is the Final step to polishing Tolecut after sanding a repair! It removes swirls and  any light sanding scratches that remain after step one.

From 3m:
Removes Swirl Marks and Micro Grade Sanding Scratches
3M™ Finesse-it™ products are a line of our specially engineered abrasives, compounds, polishes, and buffing pads to be used on OEM and baked refinish paints to remove defects, sand scratches, or swirl marks on a variety of painted surfaces. 3M Finesse-it products are an integral part of a 3M recommended buffing system for repairing surface defects to clear coats, lacquered wood, solid surfaces, gelcoat, powder coat, industrial paint, acrylic, and glass.
Ideal for Spot Repair on OEM Clear Coats
3M™ Finesse-it™ Polish - Extra Fine works well for buffing wood, automotive OEM, marine, and aerospace coatings. This material also produces superior results in top coat rubbing and other woodworking applications requiring satin, semi-gloss, and high gloss finishes. This same material can also be used in our Finesse-it™ Trizact™ Paint Repair System (PDF, 742 Kb) for AOEM paint and clear coats. Finish results are dependent on the combination of coating type, polish, and tools used.
---
We Also Recommend
---