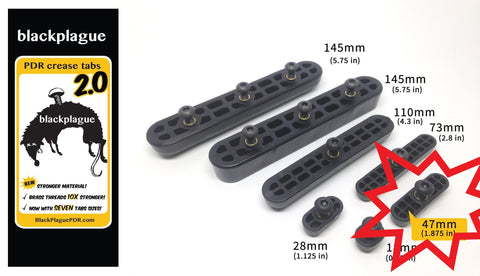 Black Plague 2.0 Crease Tab 1.875" or 47mm
This Tab is pure MONEY! Don't let the beefy structure fool you; It will pull a SHARP little crease. Try a mini or K-Bar with it as well as the controlled pull is amazing.


- Steel bolt necks WILL NOT BREAK!
​
We wanted to level up a few things with the Blackplague crease tabs and we decided to start from scratch with a new mold. Since we were starting from scratch, we were able to make several changes that are very exciting and will make for better repairs. 
- We added what is proving to be the MOST popular size. 1.875" : many many techs asked for it because it's roughly the size of a "normal" door ding. 
- We had some material breakdown on the two largest tabs where the plastic would become brittle and deteriorate prematurely. We always have and will continue to warranty all of these tabs. However,
we joined forces with Keco and their compounding expertise and we have permanently solved that issue. The material now is impervious to chemicals used in PDR.
- The weak point on some of the original tabs was the threaded plastic where the bolts entered. At high pressure levels the tabs would distort and allow the bolt to be pulled out. With considerable cost and complexity we added threaded brass inserts MOLDED into the tabs when they are first formed to give the maximum strength available. This technology is also proven in the field with KECO. 
---
We Also Recommend
---